Door Trends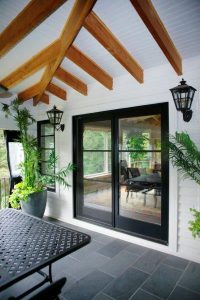 Doors these days are straying away from the traditional wood or paint, four panel look. They are becoming a finishing touch on a home with their unique trends of different designs, uses and colours. Below are some door trends that have really come into style:
• Ornate Front Door – Your front door is something that everyone sees, so make it a finishing touch to your home. Show your personality through your front door by adding a design or texture! Even adding a small window to your front door can give it a completely new look.
• Lettering – This is more of a DIY trend. Many people are choosing to add words to their doors, most often to label them to show people where something is or who the house belongs to. It's great for cottages, or for adding a bit of whimsy to your home.
• Colour – Bring some life to your front door and make a lasting impression with colour. Whether you go for a bright colour or a muted tone, it's a great statement piece.
• Charming Surface – For doors inside your home, an upcoming trend is to create a glamorous look to the door by adding chalk, leather, or nail heads. This makes the door very unique and texturized, and can really complete a look in your home if you do it right.
• Old Doors – Doors aren't just used for doors! Have you ever considered using an old door as a headboard or a mirror? Adding an old hardwood door as a headboard for your bed is a great way to give a vintage look to your room while recycling doors. Another idea is to keep the doorframe and replace the panels with mirrors, another great decorating piece to add to your home.
Come into our store and we'd be happy to give you ideas on the perfect door plan for your home!