What Are the Parts of a Door?
May 17, 2022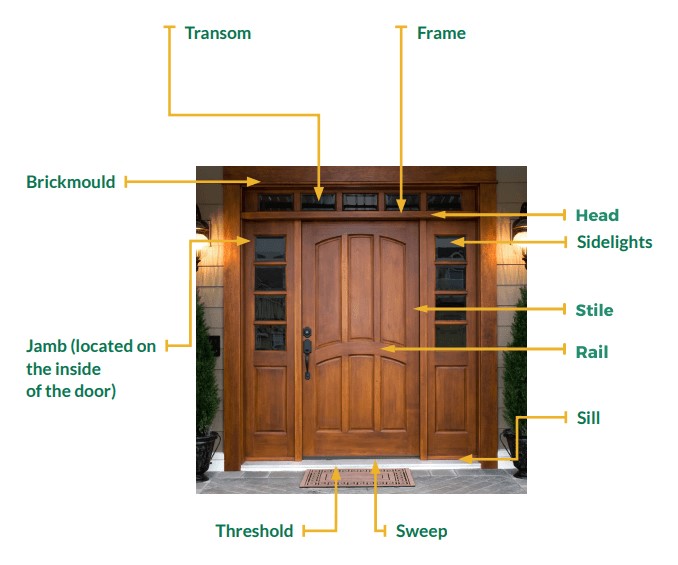 Your front door plays a key part in your curb appeal and sets the tone for your guests as they arrive. If you're in the market for a new door, understanding the key components will help you decide exactly what you're looking for.
Here are the main parts that you should know:
Frame
The main structure that surrounds and supports the entire door system.
Head
The horizontal part of the frame that runs along the top of the door.
Jamb
The vertical sections that form the sides of the door, located on the inside.
Brickmould
A term to describe an exterior trim piece that is factory applied. This can be used with brick, siding, or any exterior.
Sill
The bottom of the frame that will sit on your threshold.
Threshold
Constructed with plastic, aluminum, or steel, the threshold runs under your sill to form the bottom of your doorway.
Sidelights
A section of glass, otherwise known as a window, that is installed vertically along one or both sides.
Transom
A section of fixed glass, otherwise known as a window, that is installed horizontally across the top of your door.
Multi-Point Lock
This type of lock features three distinct locking points for extra security.
Astragal
This feature is only on a pair of two hinged doors and is a section of moulding, typically made of a half-round surrounded by two flat planes, that is used as a centre post between them.
Sweep
A weather-resistant piece of stripping that runs along the bottom to prevent drafts and moisture from entering your home.
Stile
The stile is the main vertical element that, together with the rail and panels, make up the main construction of your door.
Rail
The rail is the horizontal structural element that, as mentioned above, works with the stile and panels to make up the main construction.
Now you're ready to start speaking like a pro to bring all of your door dreams to life! To learn more about what to consider when purchasing a door, download our free Door Buying Guide or contact us and a member of our team will be happy to answer any questions you may have.