3 Ways To Boost Your Door & Window Curb Appeal
November 1, 2019
Are you looking for ways to boost the door and window curb appeal of your home?
Curb appeal is an important way to improve the value of your home for a future sale. Good curb appeal will help you stand out from your neighbours, and improving your doors and windows is a great way to get started.
In this blog, our team will share some of our top tips for improving the curb appeal of your windows & doors. Here's what you should consider:
1. Update Your Front Door
There's nothing like a new front door to refresh the look of your home. Installing a new front door provides you with the perfect opportunity to revamp the appearance of your home's exterior, boost your curb appeal, and increase the amount of light in your entryway. In addition, installing a new front door can improve the energy efficiency of your home.
Selecting Your New Front Door
The two most common types of doors are wood and fibreglass. Here are some benefits of wood doors:
Wood doors have a naturally beautiful aesthetic, are durable, and will stand the test of time.
Wood doors are highly customizable. This is particularly helpful if your home is older and your entryway has irregular dimensions.
Wood doors are available in a variety of colours and designs. They can also be sanded, stained, and painted to match any style or decor — and can more easily accommodate changes in the future.
Added Bonus: You can feel good about purchasing wood doors because of their reduced carbon footprint. Wood is a natural material that requires less energy to produce compared with other materials. Bavarian proudly carries a great selection of LePage wood products because of their superior quality and durability.
Fibreglass doors are also a great choice. Here are some benefits of fibreglass doors:
They offer good insulation (R-value), durability, and low maintenance.
They're highly-engineered and in most cases, include a solid beam of wood inside them to create weight and stability.
 Fibreglass can even resemble real wood, depending on the finish. Today, there are many colour and style options to choose from and our expert team will work with you to help make your selection a breeze.
Do you have questions about how to choose a front door? We cover everything you need to know in another post — follow the link to learn more.
2. Install Sidelites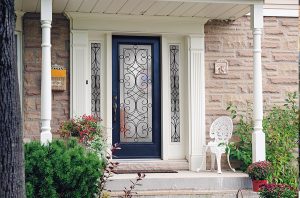 To really elevate your home's exterior, you may also consider installing sidelites. Sidelites are narrow vertical windows that are typically installed on either side of your doorway.
With sidelites, you can control the level of privacy you want. You have the option to design them with frosting and intricate wrought-iron detailing or leave them transparent for a view of who is at your front door. An added bonus is that wrought iron provides added security and peace of mind.
Ultimately, sidelites are a great way to add character and boost your curb appeal — and they will also give the appearance of a larger entryway and bring more light into your home.
At Bavarian, we use Therma-Tru Flush-Glazed Glass when we install sidelites as it eliminates the need for additional glass framing, gives your door clean lines, and lets more light into your home.
3. Update Your Windows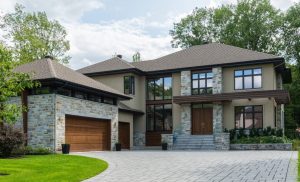 New windows can exponentially elevate your home's curb appeal. If your windows are outdated or if you're unhappy with their overall appearance, an update can completely change the look of your home for the better. New windows can help to increase the amount of light in your home, and they can also create the ambiance and aesthetic that you want, both inside and out.
One question we often hear at Bavarian is, "What are the best windows for my home?" Our team will take the time to discuss your needs and wants, and will help you choose the windows that will work best for your unique home and lifestyle.
If you are looking for new windows or doors, or you're looking to boost your curb appeal, request a quote here and a member of our team will be in touch to help you.