Exterior Door Trends & Front Entry Door Trends
May 1, 2018
There are plenty of good reasons to replace your home's exterior doors or front entry doors. Your exterior doors are some of the biggest design elements in your home and they can make your home stand out in your neighbourhood. Your entry door represents a style and a statement of what is behind that door. It is also the first impression visitors receive when they enter your home and you want to make sure it's a good one.
Many homeowners focus on designing memorable entrances or beautiful exteriors for their homes. Other homeowners have taken a step back from tradition and are starting to install more modern doors that offer improved energy efficiency. Regardless of what option you choose, updating your exterior doors is a great way to boost curb appeal and can add value to your property.
Whether you're planning a custom home-build, you want to replace a faulty door, or you just want to give your home a facelift, here are some exterior door trends to consider.
Larger Entryways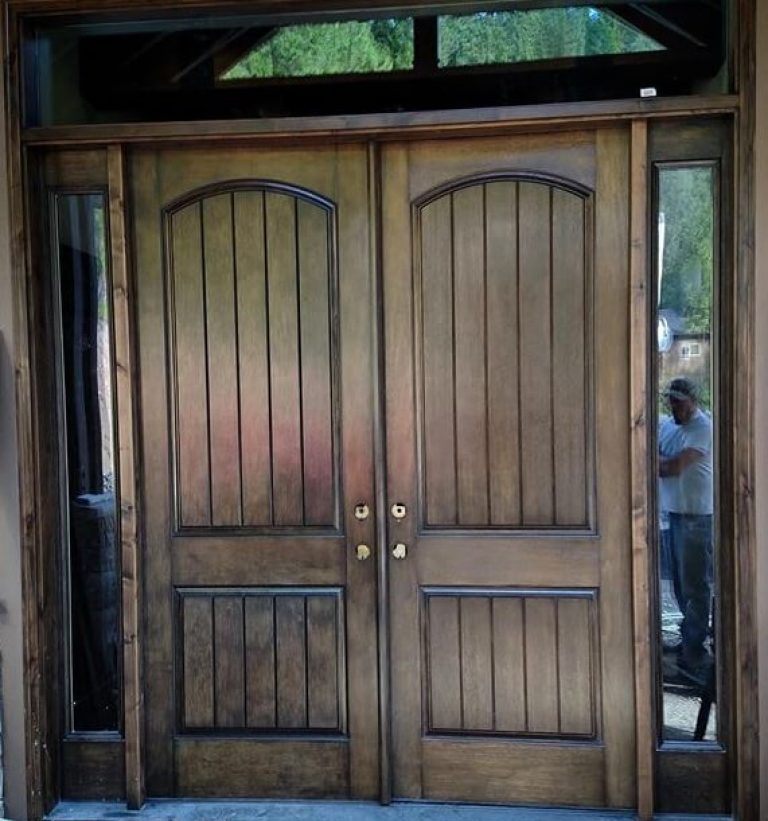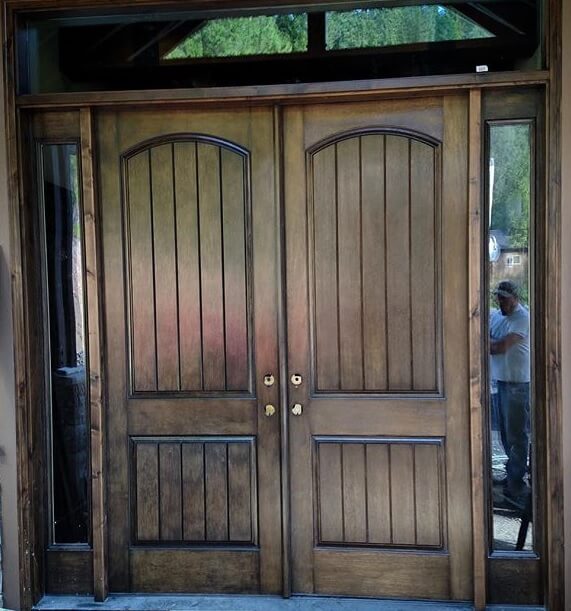 One of the most sought-after features in homes today is a entryway with maximized views and increased living space. Replacing a standard sized door with a larger entry door – and adding sidelites – is an effective way to achieve this look.
Glass designs range from simple to intricate and are available in a variety of patterns and grille styles.
Bavarian is proud to use Therma-Tru Flush-Glazed Glass. This style of door eliminates additional glass framing and gives your door clean lines. Flush-glazed glass also allows for up to 16% more visible glass area which lets more light enter your home — and flush-glazed sidelites provide more opportunity to let the light shine in.
Trending Door Colours
Your front door is a big part of your home's first impression. A red door can give your home a farmhouse feel, a blue door can create charm, and muted earth tones like charcoal gray and chocolate brown are popular for their natural look and ability to blend in with the surroundings.
There really isn't a single colour that is on trend in front doors as it varies depending on the style of home, its location, and the preference of the homeowner. The choice of colour is up to you, but there are some important things to keep him mind when picking the colour of your new front door. Here are some tips to keep in mind:
Aim to select a colour that works with the elements of your home, like the exterior brick, wood, or aluminum siding.
Take into account any accent elements on your home including shutters, window boxes, window frames, etc.
Select a colour that you like and won't grow tired of seeing every day.
Expert Tip: If you really can't decide, click here to have a look at Home and Garden's blog for some inspiration.
Steel Is Out – Fibreglass & Wood Are In
The days of having a steel front entry door for your home are over. Homeowners want energy-efficient, durable, safe, and attractive doors — and this puts fibreglass and wood to the front of the pack.
Wood Doors
Wooden doors provide a home with a warm and luxurious look and can be custom built to suit virtually any size.
Wood doors are now typically built with a core of engineered wood and glue to avoid bowing and warping — this means the wood you see is on the outside is generally a veneer. This doesn't mean that the door is poor quality. In fact it's the opposite, because with the core and veneer your wood door will wear much better, and for longer.
Pros of choosing a wood door:
Great choice for older homes where custom sizes are required
Offer great flexibility in design: colour, finish, panels, number of windows, etc.
Easily updated with a coat of paint or stain (and scratches can be repaired)
Wood provides a warm and rich look
Fibreglass Doors
Fibreglass is durable, secure, long-lasting, and resists denting, scratching, rusting, and rotting.
These doors are incredibly insulating and are available with a smooth, painted finish or with an engineered woodgrain finish.
Pros of choosing a fibreglass door:
Engineered to withstand the elements
Require virtually no maintenance
Offer greater insulation (R-value) up to 4x that of wood
Highly durable and long-lasting
Less expensive than wood
There are a lot of things to keep in mind when selecting your new front entry door. Visit Bavarian Window Works today to browse our incredible selection of doors, and let the experts guide you through the decision making process.