Top Upgrades For Your Windows
May 4, 2020
There are many different kinds of glazes and finishes for windows that offer both aesthetic and energy-saving benefits. With so much to choose from, it can be hard to know where to begin. In this blog, we will break down everything you need to know about the top upgrades for your windows.
What is Window Glazing?
All windows come treated with some sort of glazing. The type of glazing will vary depending on the brand, but will usually fall into three categories: Double glazing, double glazing on Low-e glass, and triple glazing on Low-e glass.
Here are some of our top recommendations:

Triple glazed windows consist of 3 panes of glass that create the highest level of insulation and reduced glare. Triple glazing is the most energy-efficient type of window available and will help reduce heat loss, solar gain, UV light and sound transfer. 1 ⅜" triple glazed windows are considered to be the "gold standard: of windows.
Low-E stands for low emissivity. This type of glass helps to prevent the sun's heat and UV rays from entering your home. If you choose to equip your home with triple-paned windows and low-e glazing, you may be eligible for government rebates. For more information about rebates, contact us here.
Neat glass is one of our most innovative window upgrades. This specialty exterior glass uses static dissipation, along with the sun, to help breakdown dust, debris, and other pollutants. This allows Neat windows to remain low-maintenance and cleaner than typical windows — and, when it rains, your windows will clean themselves!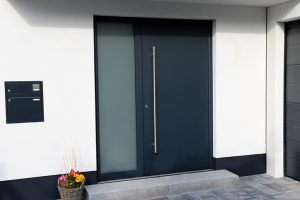 We offer a wide selection of privacy glass. We can help you achieve the level of privacy and the aesthetic that you are looking for.
Textured finishes are another way to add privacy and character, without compromising the amount of light that enters your home. Choose from many patterns including geometric, satin finish, rain glass, granite, and more — we have many options to choose from that fit every need and style.
At Bavarian Window Works in Kitchener, we have thousands of products for you to choose from. Our dedicated team can help guide you in the right direction and will ensure that the entire process is enjoyable and stress-free for you. Get in touch with us to start the conversation!